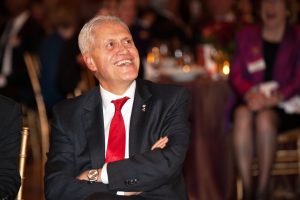 Welcome to York University!
The new year brings with it a number of exciting developments for York U. This summer we will host the Toronto 2015 Pan Am/Parapan Am Games at our new CIBC Pan Am/Parapan Am Athletics Stadium. Our renowned Schulich School of Business and Osgoode Hall Law School are celebrating important anniversaries this year. The Lassonde School of Engineering will be moving into its extraordinary new home, the Bergeron Centre for Engineering Excellence, and our School of the Arts, Media, Performance & Design is enjoying a renaissance of its own, with a new name that embodies the scope and depth of this vibrant creative community.
With the Toronto-York Spadina Subway extension well underway, our Keele Campus is ideally located to become a central hub connecting the downtown core to the GTA. Given that the York Region is home to the largest and fastest-growing population in the province without its own university, at our Town Hall meeting in September I shared our proposal for a York University campus in York Region, and confirmed that the site for the proposed campus is in Markham, next to the Atos Markham Pan Am/Parapan Am Centre. If approved, this new campus will provide diverse professional programs to prepare students and meet the needs of regional employers, and will be home to innovative educational and research programs designed to meet regional needs.
We also continue to celebrate the diverse contributions of our outstanding alumni. John Tory (LLD '78) was sworn in as Toronto's 65th mayor in December, and Bonnie Crombie (MBA '92) was elected Mayor of Mississauga. From nearby Brampton, young alumna Lilly Singh is a Psychology grad who has become a YouTube sensation, with over four million subscribers to her empowering channel.
In 1959, York University was founded on the belief that higher education is key to healthier communities and stronger economies. That tradition of impact and excellence continues today on our Keele and Glendon Campuses. I encourage you to learn more about the work of our incredible faculty, who are among the best and brightest in the world. Drop by the RED Zone to meet some of our student ambassadors, or follow us on Twitter and Facebook.
2015 promises to be a year of tremendous opportunity, optimism and growth. I look forward to meeting many of you in the coming months as we continue to forge York's bright future together.
Sincerely,

Mamdouh Shoukri
President and Vice-Chancellor