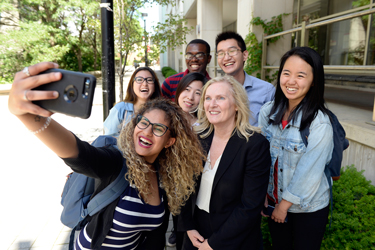 A very warm welcome to York University!
Tremendous opportunities await you at York, where the best students, faculty, staff and alumni are embracing innovative teaching, learning and research. Founded in 1959 and already the third largest university in Canada, York is a comprehensive, progressive university providing a diverse student population access to high-quality education in a research-intensive environment.
Today, York University is a success story with a distinct identity. We are multifaceted, connecting more than 52,000 students to world-class interdisciplinary programs and dynamic research opportunities across 11 cutting-edge Faculties. We are multilingual, with our Glendon Campus leading the way in bilingual and trilingual education, and through international bachelor's degrees in the arts and sciences. We are multi-campus, with facilities in Hyderabad, India and the Costa Rican rainforest. Soon, we will also call the City of Markham home when our third campus in the Greater Toronto Area opens in 2021.
As we mark the 150th anniversary of Canada's founding this year, I am proud that the values which define our community – our diversity and inclusivity, our progressiveness and commitment to excellence, social justice and sustainability – make York the model for the connected university in the 21st-century global knowledge economy. Like Canada, York is known for its multiculturalism. Our student population is among the most diverse in the country, with more than 178 different countries represented, and we have academic partnerships with nearly 300 institutions around the world. We are, in every way, a global university.
I encourage you to make the most of your time at York, and on behalf of all of us at the University, I hope you enjoy your experience here to the fullest.
I look forward to seeing you on campus this year.
Sincerely,

Rhonda L. Lenton
President and Vice-Chancellor