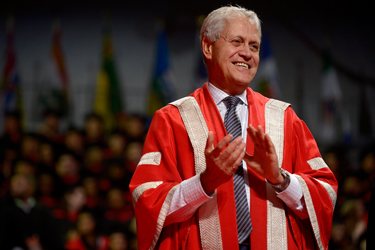 Welcome to York University!
As I enter my final year as President, it gives me great pride to think about what our community has achieved over the last ten years. This past year, in particular, has highlighted our tremendous strengths in innovative community-engaged teaching and research. I encourage you to take a look for yourself at what makes York Canada's progressive university.
In April, we launched IMPACT: The Campaign for York University, an opportunity to spread the word about York University's excellence around the world and to celebrate the impact that our alumni family of nearly 300,000 is having locally and globally. A visit to campus by YouTube sensation and York alumna Lilly Singh (BA '10) was the perfect way to do that, making this Fall's Red & White Day one to remember.
York is ranked among the top five universities in the world for its expertise in vision research, and this global eminence was recognized by the government of Canada with a $33.3M grant to further advance our leadership in this field. Our researchers developed a breakthrough invention that detects E. coli in water within minutes, and this year three out of only thirteen coveted Trudeau Doctoral Scholarships were awarded to York graduate students.
As we continue to expand our research impact worldwide, the University is expanding physically to meet the unique needs of 21st-century education. We celebrated the grand opening of the Bergeron Centre for Engineering Excellence last April, and in the same month we opened the doors of the Lillian Meighen Wright Centre in Costa Rica, York's new international EcoCampus. The facility will offer a truly unique environmental research and experiential education opportunity for York students and faculty, in one of the world's largest rainforest ecosystems. A multipurpose New Student Centre is also on the way, the culmination of more than six years of collaboration and an historic undertaking as the York University student body becomes the first in Canada to secure innovative capital project financing for a second student building.
I am delighted to share that the world is taking note of our latest successes, with employers ranking York in the top 5 universities in Canada for best preparing students for the workplace.
As we look back on the past year, this is also a time to consider our future. With momentous developments still on the horizon, such as our new Markham Centre Campus, exciting community partnerships with Cinespace Film Studios and the Regent Park School of Music, and of course, the 2017 North American Indigenous Games taking place at our York Lions Stadium next summer, I am more convinced than ever that the best is yet to come for York University.
I look forward to seeing you on campus.

Mamdouh Shoukri
President and Vice-Chancellor