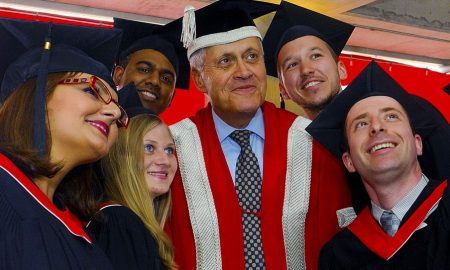 Welcome to York University!
Founded in 1959, York University is proud to be one of Canada's most socially responsive and engaged universities. The second largest university in Ontario and third largest in Canada, with more than 50,000 students, 7,000 faculty members and staff, and 300,000 alumni, York is a dynamic and diverse community committed to academic excellence balanced by real-world experiential education.
York's 11 faculties and 25 research centres are engaged in finding innovative solutions to the most pressing local and global challenges of our time. With the largest liberal arts program in Canada, York also offers outstanding business and law degrees at the Schulich School of Business, Canada's Global Business School™, and Osgoode Hall Law School, internationally renowned as one of Canada's largest and most distinguished law schools. Our Lassonde School of Engineering offers the only Space Engineering program of its kind in Canada, and is undergoing a major and innovative expansion with the completion of the School's iconic new home, the Bergeron Centre for Engineering Excellence. York's School of the Arts, Media, Performance and Design (AMPD) is one of North America's premier centres for education in the arts, offering a digital media program that is the only program in the Greater Toronto Area to integrate science, technology, communications and the visual, performing and media arts.
As a provincial Centre for Excellence for French language education, our Glendon College, located in a parkland in the heart of Toronto, offers a university education unique in Canada and beyond for its combination of quality academic offerings, campus experience and commitment to bilingualism.
We are also proud that, with the support of the Ontario government, York University will bring a new, 21st-century campus to the vibrant and growing Markham Centre, in collaboration with our partners, the City of Markham, The Regional Municipality of York and Seneca College. In direct response to increasing demand for high-quality education in Ontario's new economy, the campus will offer professionally-relevant academic programs and workplace-based learning opportunities to over 4,000 students. With easy access to transit, major employers and research hubs, the York University Markham Centre will be a truly integrated, urban campus.
For further updates on York University, please review my 2015 President's Report.
2015-2016 promises to be a year of tremendous opportunity, optimism and growth. I look forward to meeting many of you in the coming months as we continue to forge York's bright future together.
Sincerely,

Mamdouh Shoukri
President and Vice-Chancellor