Today at York University, the Government of Canada announced significant new funding to help youths in Ontario and Alberta who are homeless − or at risk of becoming homeless − to get the education, job skills and work experience they need. The almost $8 million in new funding represents a significant investment in addressing youth homelessness.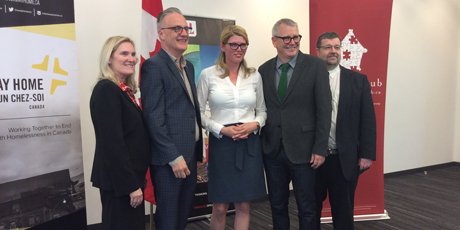 Adam Vaughan, Member of Parliament for Spadina-Fort York, announced the Skills Link program funding on behalf of the Hon. Patty Hajdu, Minister of Employment Workforce Development and Labour. More than 1,300 youth and their families will take part in the project, which focuses on prevention of homelessness through early intervention and Housing First for Youth.
The project will be delivered through a partnership between national leaders on homelessness prevention including: A Way Home Canada, the Canadian Observatory on Homelessness at York University, and the MaRS Centre for Impact Investing, as well as the Provinces of Ontario and Alberta, and dozens of community partners.
The goal of the project, "Making the Shift: Reimagining the Response to Youth Homelessness Through Social Innovation," is to ensure that young people have housing stability as well as family and other supports to stay in school or access training and employment.
In the first two years of the project, demonstration projects will take place in 10 Canadian cities: Toronto, Ottawa, Hamilton, Calgary, Edmonton, Medicine Hat, Lethbridge, Red Deer, Grande Prairie and Fort McMurray.
The Canadian Observatory on Homelessness, led by York University Professor Stephen Gaetz, will launch a Youth Homelessness Social Innovation Lab to oversee the demonstration projects and develop tools and resources to help other communities to do similar projects.  York University will receive $1.45 million of the federal funding to run the lab, which will focus on knowledge mobilization, to ensure prevention models and Housing First for Youth take root at the policy and practice levels.
The Canadian Observatory on Homelessness issued a report recently that called for a major shift in addressing homelessness, to focus on prevention. This change in direction is important for young people in particular, according to the partners on the "Making the Shift" project for which funding was announced today, because becoming homeless for a sustained period may affect a young person's health and wellbeing, their educational achievement and ultimately their ability to participate in the labour market.
Quotes:
"This project will help vulnerable youth build positive futures and develop the skills they need to contribute meaningfully to the workforce. When youth have the skills and supports they need to succeed, they can get good, well-paying jobs, help grow the economy and join the middle class."
– The Honourable Patty Hajdu, Minister of Employment, Workforce Development and Labour
"Homeless youth are amongst the most vulnerable and marginalized populations who face substantial barriers to education and employment. Assisting Canada's youth is a priority. A Way Home: Working Together to End Youth Homelessness in Canada's project is a concrete example of what we can achieve for youth by working in partnership with organizations across the country. Projects like this can give our youth the chance to change their future."
– Adam Vaughan, Member of Parliament for Spadina-Fort York
"Through a unique partnership with the Canadian Observatory on Homelessness (York University), MaRS Centre for Impact Investing, two provinces and dozens of community partners, the Making the Shift project will ensure that young people at risk of or currently experiencing homelessness achieve housing stability and have natural supports such as family that are essential as they receive support to stay in school or access training and employment."
– Melanie Redman, Executive Director, A Way Home Canada
"This project will not only enable over a thousand homeless youth to access education and employment, but will provide us with a much stronger evidence base about how to prevent youth homelessness and support young people who do experience homelessness to exit this situation. It's all about helping young people in a tough situation to move forward in their lives in a way that promotes wellness and the chance to succeed."
– Stephen Gaetz, Professor, York University and Director, the Canadian Observatory on Homelessness
"This visionary investment by the Government of Canada not only recognizes the leadership that A Way Home Canada, The Canadian Observatory on Homelessness at York and their many partners have provided through the development of meaningful strategies to support homeless youth in Canada, but it is also an investment in our nation's future, ensuring that all young Canadians are able to contribute to shaping a better country and a better world."
– Mamdouh Shoukri, President and Vice-Chancellor, York University