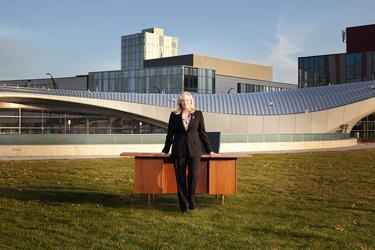 Welcome to an academic year, unlike any other in the history of York University.
2020-21 will not only be unique because the vast majority of courses will be delivered remotely. As a community, we are beginning this academic year with a renewed sense of who we are, what is important to us and how much we are truly capable of achieving.
York's motto is Tentanda Via: The way must be tried. As I reflect on our community's response to a global pandemic through the spring and summer semesters, I can say with confidence that we are continuing to live up to the spirit of that bold statement of purpose, made 61 years ago. In the face of challenges and anxieties created by COVID-19, we adapted, innovated and persevered. I am grateful to be part of a community that continued to pursue academic, research and professional excellence while always looking out for one another, our friends and our families.
We are a community of change leaders. I continue to be inspired by the students, staff, faculty and alumni making a positive difference in the world around us. Through the pandemic and beyond, we are using teaching, research, volunteerism, entrepreneurship and innovation to build more diverse, inclusive and resilient communities, both here at home and around the world.
If you find yourself in need of support this year, reach out to us. The pandemic is ongoing, and York will continue to be flexible and compassionate so that we can all prioritize the safety and wellbeing of our community.
I wish you the very best for good health and success in the 2020-21 academic year.
Sincerely,
Rhonda L. Lenton, PhD
President & Vice-Chancellor