Do you have big, bold ideas for York's future? Then we want to hear from you! All current York University students are encouraged to share their vision for York's future on Twitter or Instagram using the hashtag #YorkUMyVision for a chance to win lunch with President Lenton.
Contest Winner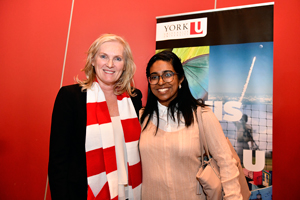 On October 17, 2017, President Lenton announced the winner of the #YorkUMyVision student contest. Congratulations to Jathusha Mahenthirarajan! Jathusha is a first-year Human Rights & Equity Studies major. Her winning vision is to create a drop-in social incubator at York University so that students can apply course materials to solve pressing world issues.
Contest Rules
Open to all current York University students.
Winning message must include #YorkUMyVision.
Winning message can be shared on Twitter or Instagram.
Winner will be selected by York's Office of the President on October 16, 2017.
Contest entries must be submitted between September 2, 2017 at 12:00AM and October 12, 2017 at 11:59PM.
Winner and message will be announced at the Community Reception on October 17, 2017.
Winner will be notified by the Office of the President via Twitter mention or via comment or message on their winning Instagram post.
Winner must respond to the Office of the President within three (3) business days of notification, or another winner will be chosen.
There will be one prize of lunch with President Rhonda Lenton.
Winners will be chosen based on the originality, thoughtfulness and compelling quality of the vision.
Entries submitted to the contest must be original content; any content from a source other than the submitter will be disqualified.
York reserves the right to disqualify entries on the basis of inappropriate content.